Premium Entertainment
Experiences and shows to make your superyacht charter extra special
Premium Entertainment
Experiences and shows to make your superyacht charter extra special
Premium Entertainment
Experiences and shows to make your superyacht charter extra special
Premium Entertainment
Experiences and shows to make your superyacht charter extra special
Premium Entertainment
Experiences and shows to make your superyacht charter extra special
A superyacht charter is an exclusive and luxurious experience, and that's why we want to ensure that every moment spent on board is unforgettable. Whether you have already booked your charter or you are in the planning stages, we offer a range of premium entertainment options to help take your experience to the next level.
From live music performances to theatrical shows and immersive experiences, our range of premium entertainment options offer something for everyone. With our experienced charter team, we can help you curate the perfect entertainment line-up for you and your guests.
Whether you're looking to host a glamorous cocktail party, a relaxing afternoon by the pool, or an unforgettable evening dining under the stars, we have the perfect luxurious entertainment to suit your needs. Our range of premium experiences and shows are designed to cater to every taste, from opera music concerts to thrilling acrobatic performances.
So, if you're looking to make your superyacht charter extra special, look no further than our luxury entertainment options. Contact us today to discuss your requirements and let us help you create an unforgettable experience you and your guests will cherish for years to come.
TREASURE HUNTS
Family Adventures
Experience the adventure of a lifetime with our interactive entertainment available both onboard and onshore.
We invite you and your guests to immerse yourselves in a supersized adventure, unlike any other. This unique and thrilling treasure hunt brings movie-like adventures to life and takes guests down a journey of excitement and discovery that will leave them breathless. With real life special effect and incredible attention to details, your group of adventurers will certainly create unforgettable memories to cherish forever.
Join this adventure and be a part of something truly remarkable!
Discover
THE KING IS BACK
Michael Jackson Tribute Show
If you're looking to thrill your guests at your upcoming event, our Michael Jackson tribute band should be at the top of your list.
Featuring experienced musicians and award winning performers, they deliver the King of Pop's hit songs and moves with unparalleled precision and energy. Whether you're planning a corporate event, a private party, or a wedding, our Michael Jackson tribute band will take your guests on a trip down memory lane with hits like Billie Jean, Thriller, Smooth Criminal, and Black or White. With authentic costumes, dance routines, and stage setup, we'll make sure that your event is a memorable one.
Discover
BOW TO BOW
Acrobatics with a Bow
Looking for some added excitement and entertainment on your next yacht charter?
Look no further than Orissa! This incredible performer is not only highly skilled in extreme stunts and aerial acrobatics, but she can also shoot flaming arrows, making for a truly unforgettable show. Orissa is a one-of-a-kind talent who is in high demand, and hiring her for your next charter means your guests will be treated to an experience they won't soon forget. Whether you're celebrating a special occasion or simply looking to add some excitement to your cruise, Orissa's upside down arrow firing performance is sure to impress.
Discover
SPY MURDER MYSTERY
Murder & Casino Night
Have you ever dreamed of being a spy in a web of intrigue as part of your very own murder mystery party?
Well, now you can with the help of our premium entertainers! Be both accomplice and culprit in this thrilling and suspenseful game that is sure to keep you on the edge of your seat. We bring the mystery and excitement directly to the heart of your trip, no matter where your travels take you.
Discover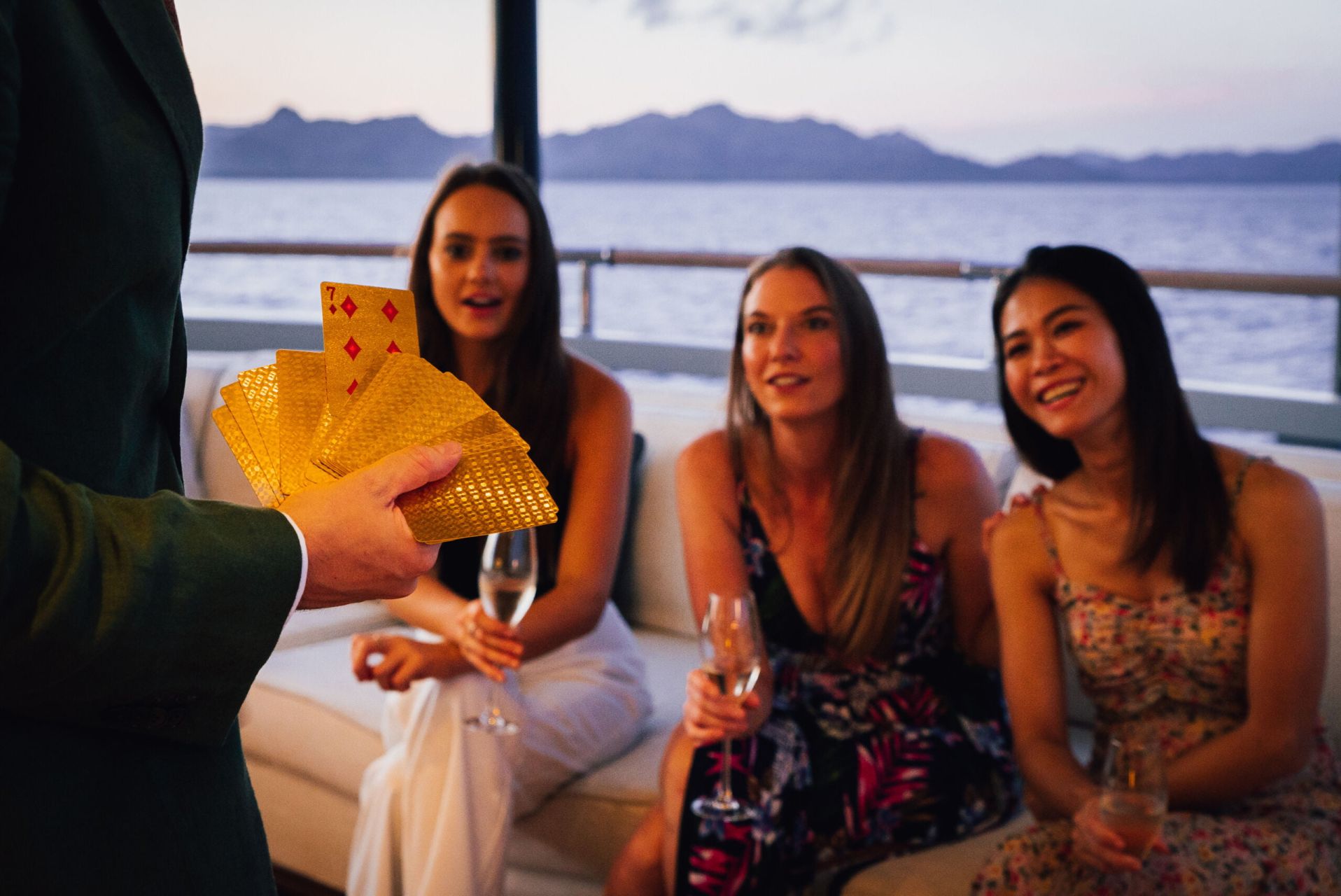 OVERBOARD
Magic Show with a Splash
If you are looking for an exceptional entertainment option for your yacht charter, then look no further than our signature magic show. Chris, is a distinguished member of The Magic Circle, and his 15-year career in magic has seen him perform for a diverse range of audiences – from members of royalty to some of the biggest names in the industry. From dazzling illusions to clever card tricks, our show promises to be a feast for the eyes and the mind, we guarantee they will be amazed by Chris's unparalleled skill and talent.
Discover
KURTIS
Children's Entertainment
If you're planning your next yacht charter and you want to make it unforgettable for the children on board, you should definitely consider hiring Kurtis the children entertainer. With years of experience entertaining kids of all ages, Kurtis knows exactly how to create a fun and engaging atmosphere that will keep them entertained for hours. From magic shows to balloon twisting, face painting and games, Kurtis has it all covered. Plus, his infectious energy and enthusiasm will make him an instant hit with children and adults alike.
Discover
OPERA and JAZZ
Singer with range
If you're planning a luxurious yacht charter and want to add some entertainment to your experience, then Marika the singer is the perfect choice. With her beautiful voice and engaging performance style, Marika can create the ultimate atmosphere to make your charter unforgettable. Whether you're looking for soothing jazz music or a dazzling opera performance, Marika has the talent to keep all your guests engaged and enjoying the moment.
Discover