An unmissable opportunity to purchase a multi-purpose vessel has arisen with YACHTZOO.
TRITON, a 98m motor-powered trimaran, built by British builder Vosper Thornycroft. TRITON conversion vessel for sale is a significant triple-hulled vessel, with a length of almost 100m and a beam of 22m.
Ideal for those seeking a large conversion vessel, the TRITON conversion vessel for sale is a ship which offers great potential for conversions such as a shadow vessel, marine science support, humanitarian relief or even border protection.
Read on to learn more about the research vessel TRITON.
Meet TRITON conversion vessel for sale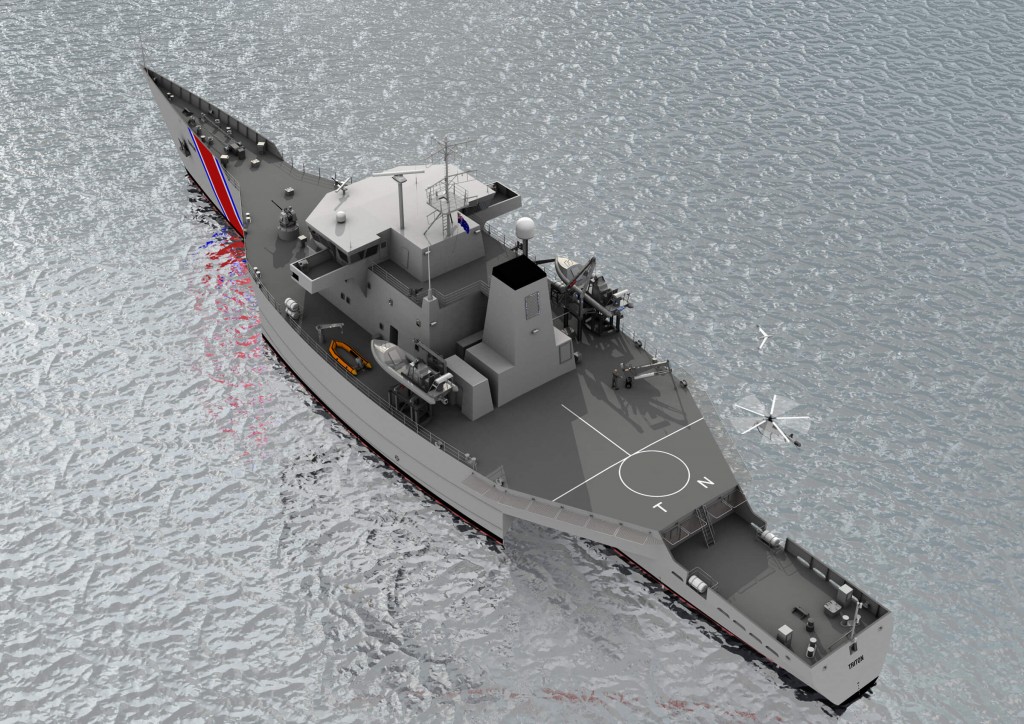 Launched in 2000, the 98.0m TRITON conversion vessel for sale is ideally suited for adventurous missions. The vessel has been operated with 14 crew and there are 48 berths in 24 cabins, there is ample space for everyone onboard.  In current configuration there are no guest accommodation, though this could be considered in a conversion.
TRITON conversion vessel for sale is built along warship lines and to DNV-GL Classification Society high-speed craft design. The three hulls are topped with a sizeable main weather deck, providing space both forward and aft of the main superstructure. She is also capable of stowing 6 x 20-foot containers for enhanced mission support and the aft deck is structurally ready to be developed into a rated helideck, the vessel has received helicopters when in military service.
The fridges and food stores also have sufficient capacity to sustain 45 guests continuously at sea for more than 30 days and due to the additional capacity of the outer hulls, there is significant storage space.
The main engine room, auxiliary machinery spaces, electrical switchboard rooms, and engineering workshop are well-configured, spacious, and configured for UMS. The bridge spans the ship's breadth and boasts a 360-degree field view through her large glass windows while also well-equipped with the controls, sensors, navigation, and communications equipment expected of a modern ocean-going vessel.
Her top speed is 16.0 km, and she boasts a maximum range of 11520.0 nm when navigating on one engine.  Propulsion is from two MTU diesel-electric engines and a third as spare is included in the sale. TRITON conversion vessel for sale has spent most of her life in very remote areas of the Indian Ocean where reliability was critical, it was the most reliable border force vessel, measured by days on station, for Australia when it was engaged in this service.  The hull has been tested in all weather conditions and handles incredibly well.
This research vessel for sale has proven performance in resource protection, off-shore installation protection, border patrol, humanitarian relief, counterterrorism, and marine science.
TRITON is out of class and requires vision and time but will offer many conversion possibilities for her new Owner and set sail again to explore the world.
Vosper Thornycroft ships; a leading warship boat-builder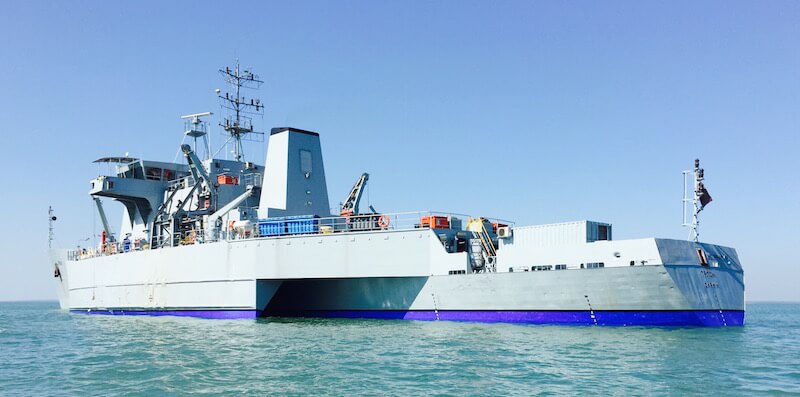 Vosper Thornycroft has been one of the UK's leading shipbuilders for over 100 years, thanks to their exceptional build quality, attention to detail, and pioneering use of technology.
The UK-based shipbuilder Vosper Thornycroft is regarded as one of the world's leading designers and builders of advanced warships. During its 100 years of service, Vosper Thornycroft has consolidated its design and construction facilities, enabling them to offer a wide portfolio of vessels, from small patrol and pleasure craft to large modern Frigates and warships.
The shipyard excels at delivering exceptional ship-building technology providing an elevated yachting experience through its application of advanced design and state-of-the-art engineering.
TRITON conversion vessel for sale is a rare opportunity coming on the market, so don't miss this chance to own such a unique ship ready for its next mission or conversion into a whole new platform such as the perfect shadow vessel. To learn more about this TRITON conversion vessel for sale, contact the experts at YACHTZOO.