Creating the ultimate wellness charter
If you are in need of some pampering for your body or your soul, there's no experience more rejuvenating or relaxing than stepping aboard a wellness charter. Whether you are using the yacht as a luxury retreat at sea while dipping in and out of treatments ashore, or you want the entire yacht charter to focus on your group's wellbeing, there's something out there for you.
Today's wellness yacht charters take many forms. For holistic hipsters, there are a plethora of spiritual and yoga retreats at ultra-luxe establishments ashore while the yacht's chef provides a carefully prepared revitalising detox diet on board.
Fitness fanatics can bring a Pilates instructor aboard for bespoke daily classes while cruising along shores bursting with challenging hiking routes, stunning scuba diving sites or killer kitesurfing spots.
Those with a penchant for pampering can spend a few days sampling the full menu at five-star spas on private islands to set the tone for the rest of a relaxing yacht charter, or choose a yacht that has an extensive spa on board for even more convenience.
The sky's the limit when it comes to creating a wellness yacht charter with your YACHTZOO charter broker, and you will be sure to head home feeling like you are walking on cloud nine.
ONBOARD WELLNESS RETREAT
A great option for yacht charterers who … love convenience.
There's nothing more convenient than having your own wellness team travelling with you on a yacht charter. A number of today's luxury yachts have dedicated wellness centres – or even an entire wellness deck – which is on call whenever and wherever you need it.
Once considered an afterthought in the charter experience, with pokey gyms and saunas hidden away in the furthest reaches of lower decks, the wellness amenities onboard luxury yachts are now on a par with some of the most opulent spas in the world. Think expansive beach clubs leading directly to onboard cool-dip baths and dry saunas, wellness centres with yoga decks, first-class gyms and hydrotherapy baths, or dedicated beauty professionals trained in the latest techniques and treatments to send you home with a youthful glow.
Yacht chefs are a key ingredient to any outstanding yacht charter but when it comes to wellness, they are even more vital to your vitality. Many chefs take a special interest in the ways their cuisine can enrich the guests' healthful experience, using the latest methods to preserve nutrition and boost your body's health through food. And of course, being a luxury superyacht charter, the standard of cuisine will be as high as in the best restaurants ashore.
Get in touch with your YACHTZOO charter broker about how to create a unique onboard wellness retreat during your next yacht charter.
ACQUA DI PARMA BLU MEDITERRANEO SPA
YACHT CLUB COSTA SMERALDA, PORTO CERVO, SARDINIA
A great option for yacht charterers who … want to combine glamour with pampering.
The chic Yacht Club Costa Smeralda in the heart of Porto Cervo, aka "Billionaire's Playground", is also home to one of the world's two spas by exclusive Italian brand Acqua di Parma. Natural therapeutic care is at the core of the spa's philosophy, offering a focus on restoration (perhaps most needed after a night partying away with the jet set holidaying in Sardinia).
Book in for the spa's "sensory journey", which includes deep breathing techniques, aromatic oils and a pressure point massage, leaving you rejuvenated and ready to hit the town's fashionable restaurants and nightclubs again.
Alternatively, book in a full pamper day at the treatment rooms, including a hammam, sauna and dedicated aromatherapy area. Located just a short walk from the Yacht Club's docks, the Acqua di Parma is the perfect antidote to high-summer partying.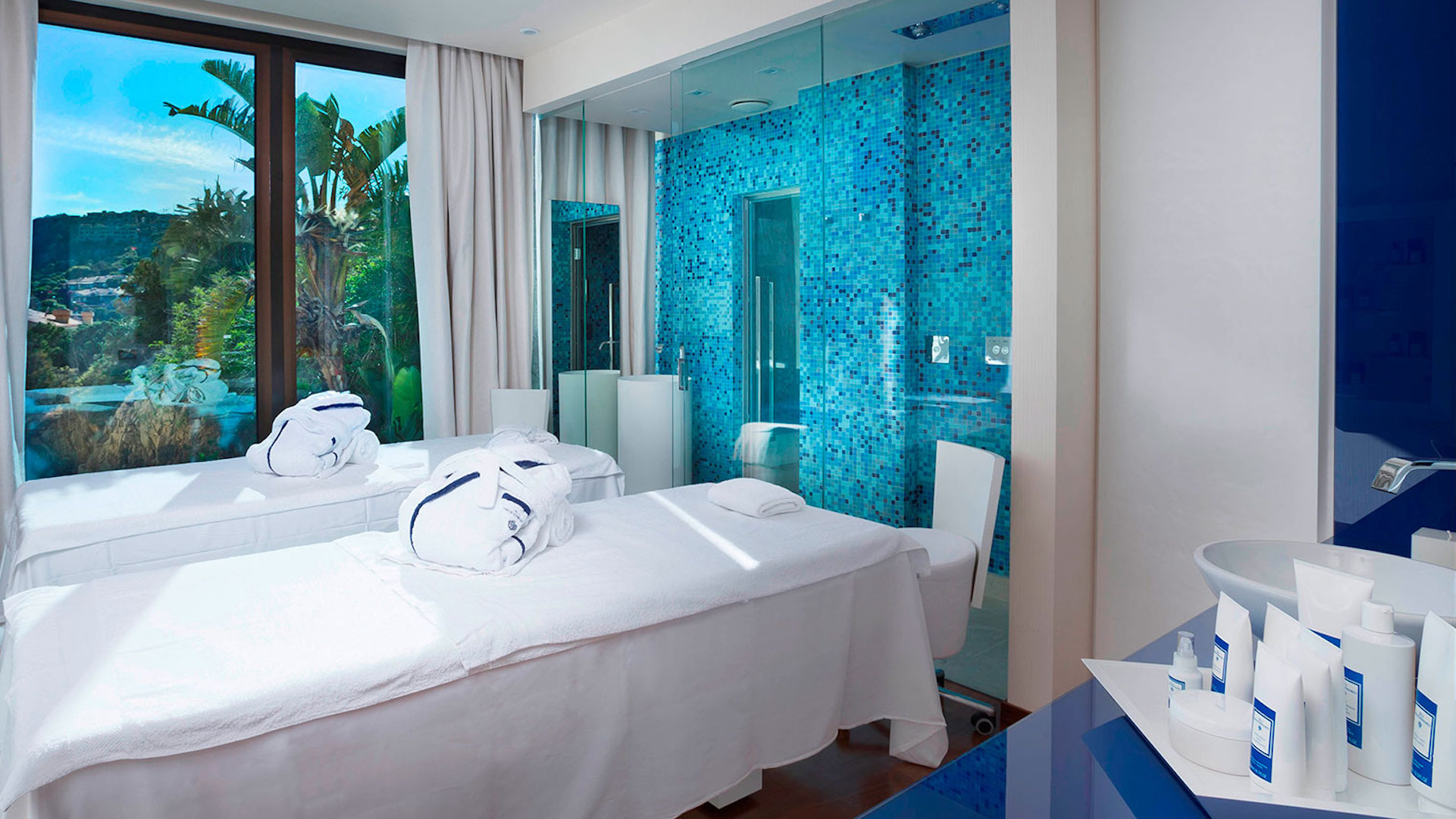 YAUKUVE SPA SANCTUARY
KOKOMO ISLAND, FIJI
A great option for yacht charterers who … are looking for a pampering tropical retreat.
Opening in 2017, Kokomo Island was developed by superyacht owner Lang Walker, who was looking to create the perfect island paradise offering barefoot luxury for the intergenerational market.
Passing yachts are invited to drop anchor off Kokomo Island for a relaxing day visit including meals and access to the poolside cabana, gym and Kids Club or have a private tour of the island's farm with the Executive Chef.
Alternatively, enjoy an overnight package that includes access to the island's facilities, including the gym, butler and nanny service and Kids Club, plus meals at the island's gastronomic restaurant, non-alcoholic drinks and access to the island's non-motorised water activities. Whether you only stay for a day or anchor for a few nights, package fees are tailored to a yacht's needs.
All visitors to the island, both staying in residences or anchoring nearby, have full access to the island's indulgent spa, which is the largest in Fiji. Featuring nine treatment rooms, there are wet and dry hammams or try the Pacific mastery massage range, nourishing and rejuvenating facial therapy and restorative body therapy treatments. The spa uses premium Sodashi face and body care products from Australia, which focus on "wholeness, purity and radiance" and are 100% chemical free.
If you are looking for something a little more spiritual and physical during your yacht charter, the island also offers private yoga, meditation and Pilates classes.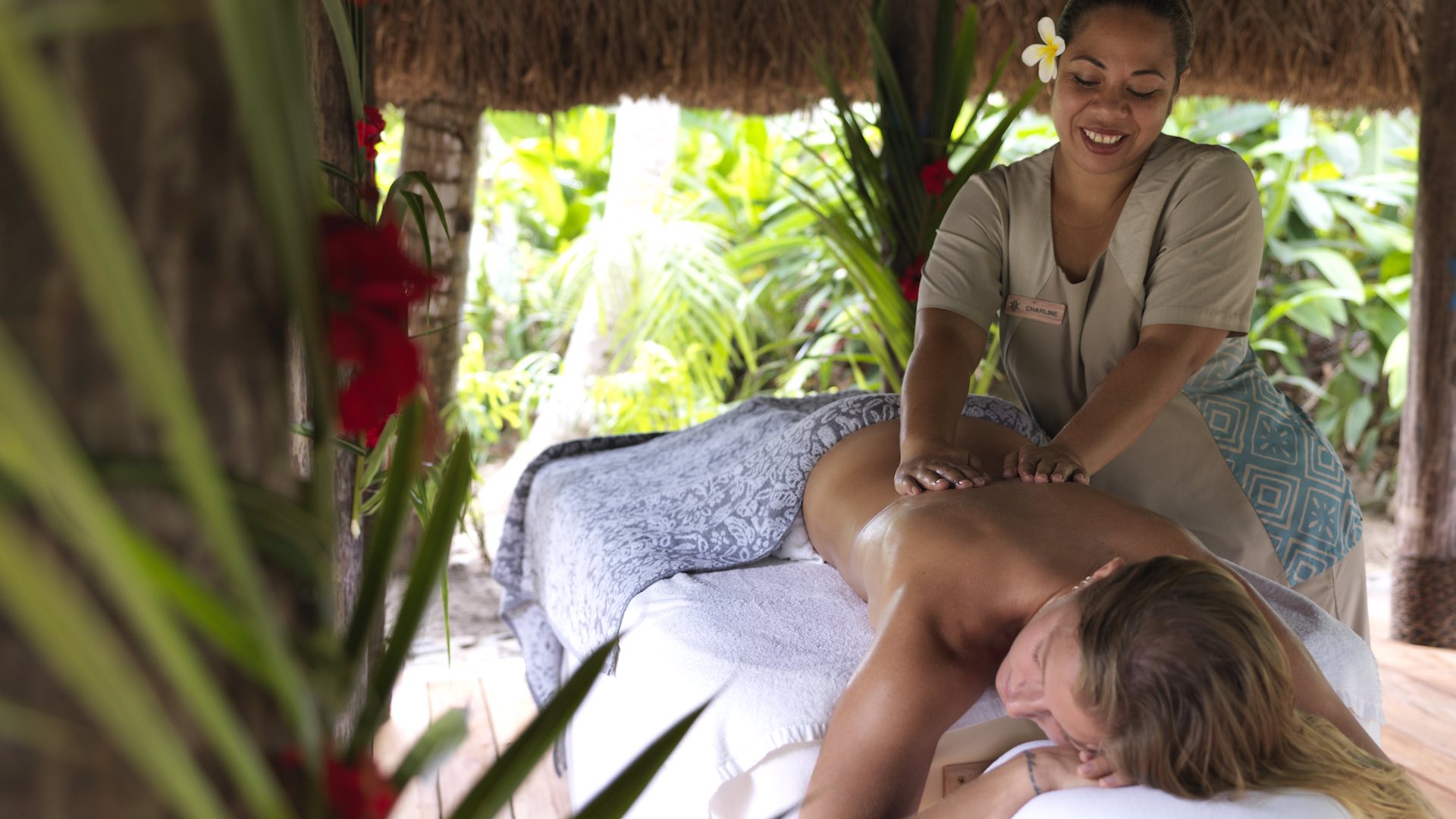 NIHIOKA SPA SAFARI
NIHI SUMBA ISLAND, INDONESIA
A great option for yacht charterers who … want to press reset before stepping on board.
Awarded top hotel in the world by Travel + Leisure magazine in 2016 and 2017, Nihi Sumba is a peaceful and remote private retreat that offers guests the opportunity to stop the clock and set a relaxed pace before stepping on board their yacht charter in Indonesia.
Wellness is placed front and centre of any stay, from revitalising clifftop yoga at dawn to surfing lessons from world-class instructors. Try the NihiOka Spa Safari, a full-day experience to stimulate the senses, starting with an optional 90-minute trek through rolling hills and rice fields, meeting local villagers, and completed with a range of organic treatments in a private cliffside room and nutritious meals for breakfast and lunch. The roster of treatments includes deep tissue massage, rejuvenating facials, a softening salt glow and the Sumbanese Dream, designed to eliminate toxins and promote purification and renewed skin tone.
Your group can choose from the range of pared-back luxury villas, each as unique as their exotic names, from the four-bedroom Lantoro estate with its panoramic vistas to the playful three-bedroom Tree House Mamole estate set among the swaying palms.